---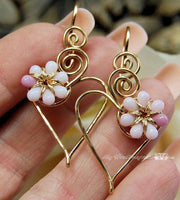 Charming Hearts Earrings in 14k GF, Tiny Pink Flower Handmade Earrings
Bobbi J Maw - MyWiredImagination
Charming Hearts Earrings in 14k GF, Tiny Pink Flower Handmade Earrings
These cute little earrings are each hand formed from one continuous piece of 18ga 14k GF wire. They have been shaped and hammered for strength. Then I added a tiny flowers, hand woven in 14k gf wire.
Pink Flowered Hearts: Overall length is almost 2 inches long from the top of the ear wire, and 1 inch wide.
👉Note: If you think the 18ga wire is too thick for your piercings, I can convert these to standard 14k gf ear wires at no additional charge. Just let me know in notes to seller at time of purchase.
►14K Gold Filled is a federally regulated amount of 14K gold (5%) rolled on to a base metal, usually brass. It is the next best thing to solid 14K gold. It has no nickel in it and is considered hypoallergenic. It will not tarnish or discolor your skin. The finish will last one to five years under heavy wear (like a ring - though I have lots of rings and bracelets that are still great looking after 20 years) and a lifetime under occasional wear (like an ear cuff or earring).  
Thank you for stopping by - hope to see you again soon!!
Materials: 14k GF wire,tiny glass beads
❤️ "I bought a 7 1/2 and it fit perfectly! It is a present for my daughter for Christmas! Shipping was really superduper fast. So I am thoroughly pleased, thank you so much for the quality craftsmanship!